Children's ski lessons in Megeve are packed with engaging and fun activities and tasks on skis, with a firm focus on developing technique to meet the structure of our chosen awards scheme.
Children must be aged six and above.
Ski lessons take place in a fun, safe environment.
Techniques are taught using games and activities on skis.
We aim for maximum class activity whilst recognising children can tire easily!
The Snowsport Award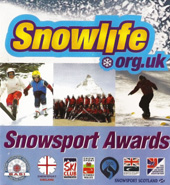 The Snowsport Award scheme helps children develop their skiing technique and marks their successes and progression through awards. The children receive a badge and booklet, which is updated with each successful progression from level 1 to level 9. The awards system gives the children a chance to progress with the structure, while learning techniques from ski instructors through fun activities and tasks.
Please note: It is important to keep the age and ability of the children in the group to a similar standard.